I am an anti-resolutionist. Okay, maybe that isn't a thing, but my first and lasting impression of New Years resolutions came in high school. I had been exercising regularly since signing up for the gym that Fall. Expectedly, the fitness facility swelled with resolutioners. But, by February, the gym's occupancy level had fallen back to what it had always been. "What's the point of all of that?" I thought. To sign up for a monthly membership only to use it about a dozen times seemed so frivolous and senseless. So since then, I haven't really promised to start anything come January 1st. That said, I survive on to-do lists. Regular goal setting is pertinent to drive my blog; I am going to run a half marathon in the Spring; furthermore, running a household, in general, requires a whole lot of organization. Admittedly though, I'm no expert when it comes to time management and goal setting. So, I decided to take to social media and ask Mommy Bloggers their own tips on goal setting and getting sh*t done! These women manage work, work from home, their families, and their blogs! Here are their great tips with a few of my own in the mix.
Tips On Goal Setting & Getting Sh*t Done
Tips on Goal Setting
Write goals in present tense – "I am (goal) by (date)": Goals should be set in the present tense, be specific, and have a completion date. Here's an example, "I am debt-free by October 1st, 2017". Why should you structure your goals like this? By taking out "I will" statements and swapping them for "I am," the goal you're setting becomes more concrete and less hypothetical. A date creates a sense of urgency and sets a time constraint. Click here to see a three-minute video on goal setting this way from lululemon.
Set SMART goals: Specific, Measurable, Attainable, Relevant, and Time Sensitive goals are ones that will be accomplished more than ones that don't meet these standards. See examples and more detailed descriptions of all of these on this post from The Inspired Home.
Start with a big goal and then break them into smaller goals or tasks. Then, incorporate those tasks into your daily to-do lists: Aaronica from The Crunchy Mommy says, "I always start with the big goal at hand and work backwards breaking it down into digestible and accomplishable tasks. It doesn't seem so hard when you do it that way!!!" Sarah from Ruffles and Rainboots says, "For me it's easier to think in terms of goals broken down into milestones, which are things I want to complete bi-monthly or monthly. I then make them into tasks for myself on a daily to-do list."
Share your goals with others to hold yourself accountable: Shann from ShannEva.com says, " I find that if I write out my goals for the month and share them, it helps me be more accountable. Even if you're not a blogger, sharing them with your family or friends can help make you stick to what you say you're going to do as long as you're realistic."
[bctt tweet="Make a list, break it down, set a timer, and get sh*t done! #taketime"]
Tips on Getting Sh*t Done
Make lists of what needs to be done: Sue of SueParke.com shares that simply planning ahead and writing things down makes getting them done easier. CourtneyLynne of The Trophy WifeStyle says "I'm all about making lists! Planners are so fabulously pretty, but never work out for me in the long run…. As soon as the "Omg this is new so I must use it" burns out, into a drawer it goes. But a simple to-do list I write out every evening before bed on my iPhone, things actually get accomplished. I even kinda make lists into my own version of a planner and write them for a few days out."
After writing your to-do, group similar tasks together: For bloggers, this means "Instead of doing an activity, taking photos, writing a post, editing photos, finalizing the post and then hitting publish/schedule and then starting all over, do all similar tasks at the same time. When I first heard this tip I didn't think it mattered but when I actually tried it, I could see that it really did help. Taking all my photos at once meant connecting the cord only once to my computer. Editing all of them at the same time meant opening my photo editing program once. Writing posts all at once meant I kept in my groove and churned them out faster." Read more tips like this on Biannual Blogathon Bash.
Say, 'No' to things that aren't important: Traci of Traces of Faith says, "You don't HAVE to do and aren't a fit with your objectives. That really helps make the to-do list smaller."
Have a family calendar: Tiffany of Good Enuf Mommy says, "Definitely having a family calendar. Everything must be scheduled- from school to work to blogging. If it's not scheduled it won't happen!"
For your home business, blog, and personal life, have separate calendars and break it all down: Heather of H and P Artistry says, "I have a personal calendar, Blog calendar, YouTube/Periscope calendar, and a family calendar. I break down larger projects or subheadings of projects eg. Home hacks, creative, sewing… into a project management schedule and make smaller goals to make the larger goals more easily accomplished. More than anything its writing everything down and being able to adjust it as I go. Having an outline to start with helps me to keep on schedule even if I change individual topics/projects the main project is still complete and on time."
Use an app or software to get your catch your content and plan: I started using OneNote recently. The app is synced with the application on my desktop. When I'm driving the 25 (yes 2-5) minutes to drop my daughter off at school, I can dictate ideas for blog posts, or map out my to-do and then edit it on the computer, once home. Tricia from The Good Mama recommends the NotePad app. While Becky of Bit of Mom Sense suggests simply using excel and planning well serves her best. See more of Becky's tips for working at home with kids around here.
Set a timer: Sarah of Ruffles and Rainboots says, "Timers! I honestly can do anything for 10 minutes, even the stuff I strongly dislike. Setting timers for myself increased my productivity so much."
Do a little bit at a time: Theresa of Theresa's Reviews says, " I work full-time and have two young kids, but I squeeze in every extra minute into writing content. If I just have 10 minutes, I can participate in a blogging group, create a graphic for a post I'm working on, or edit a paragraph. I stay realistic about how much I can get done so I don't publish sloppy work. One thing I could work on is staying organized. I promise companies certain things (Promotion on all social media, or specifically to Instagram, etc.). I'm thinking a simple Excel sheet, or maybe something made in the cloud could work well."
Keep a routine that allows for Mom to get things done: Amy of Learning with Style says, "We usually keep the same routine in the morning of breakfast, play time together, then independent play while I work. We pick things up as we go and then have a bigger clean-up session after lunch before nap so we have a clean slate for the afternoon."
For the work from home or blogger parent, find a play place with free wifi: I've done this at McDonald's and found it to be perfect. Two Happy Meals (get apples instead of fries to make it healthier) cost under $10. They get to play in their self-contained play place and you get free wifi. For more tips on finding good play places with free wifi, check out this post from British Columbia Mom.
Embrace the motto, "You can do it all, just not all at once!": Katie from Mom to Mom Nutrition says, "My new motto says it all: 'You can do it all, just not all at once! I think that's an important reminder for anyone, but especially moms!"
What are your own tips on goal setting? How do you get sh*t done? Please share! I would love your help.
If you like this post, please do me a favour and click the pink badge below. It will cast a vote for my blog <3

The New Year marks a fresh start for so many. Please share stories, ideas, and sentiments on this idea. If you are a blogger that has a post on this theme, please see below for our link-up!
WELCOME TO OUR LINK-UP! WE ARE SO HAPPY TO HAVE YOU! HERE ARE YOUR HOSTS:
FOLLOW on
Facebook: Good Enuf Mommy
Twitter: @GoodEnufMommy
Pinterest: @GoodEnufMommy
Mama by Fire
Follow on
Facebook: Mama by Fire
Twitter: @MamabyFire
Pinterest: @MamabyFire

FOLLOW on
Facebook: Parenting from the Heart Blog
Twitter: @ParentfromHeart
Pinterest: @ParentfromHeart
This Month's Theme
Featured Posts from Last Month:
Dear Santa from the Terrific Toddler by Misfits of a Mountain Mama
This is such a hilarious post from one of my favourite writers! It starts, "Mama said I needed to write you because you'll bring me presents. I saw you at the mall, and you looked terrifying. However, I need some things. Mama and Da-Da give me toys, but I don't want those kinds of toys. I'd really like some packing peanuts. I keep seeing them arrive in boxes, but they're quickly taken away and I'm not allowed to eat them. I want a box filled with packing peanuts. I promise to eat every last one of them."
What Every Mom Wants for Christmas by The Crunchy Mommy
Yes to every single one on her list! The one I want the most right now: "Discipline-free days: "…Whether you're trying to be calm, flipping out, or silently punching walls in your head, the whole disciplining thing is hard." A day or two off every month would be so nice!!!
Make Your Own Parcel Town by Mosswood Connections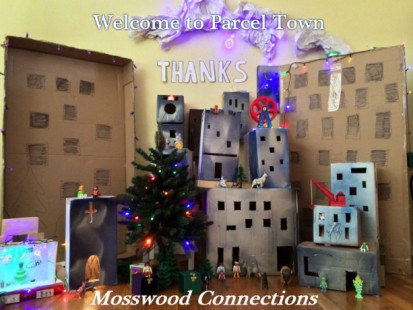 I see a box and all I can think is of the possibilities of what we can make. I love how Mosswood Connections took parcels from Christmas and made them into a town!
Link-Up With Us This Month
Please share anything of yours new or old that pertains to the idea of starting new, the new year, new beginnings. And follow the rules below!
Rules:
– make sure you follow your hosts on social media (bonus if you give this link up a shout out!)
– please leave a specific blog post link, not just your home page
– you must comment on the one post before your own and a minimum of two other posts of your choice. Remember that genuine interaction and positive comments benefit us all!
-make sure to check back throughout the week for new posts!
Don't forget to follow your hosts, then add your link below!
[inlinkz_linkup id=596222 mode=1]